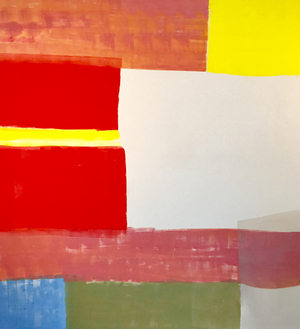 Yellow Pinto: new paintings by Anna Kunz
An exhibition of works by Anna Kunz
September 15, 2017 - October 28, 2017
Reception: September 15, 6-9pm
McCormick Gallery is pleased to welcome artist Anna Kunz back for her second solo exhibition of paintings. Kunz works in a variety of different media, producing works on paper and paintings as well as site-specific sculpture and installations. This show highlights the artist's "porous paintings" in an installation in which the viscous paint acts as an equal partner in creation of the works. The color, water and rolled gestures form a kind of joy ride, where beauty and humor are woven together, combining a lightness of spirit and seriousness of intention that are some of the defining characteristics of her work.  Kunz's interest in chance, associative color and poetic reordering of form spring from memories of driving in her father's yellow Pinto and are choreographed to pull the viewer's eye and body through the exhibition. Colors are positioned to best cultivate optical effect and invite the viewer's own associations. The paintings offer the viewer to become the figure in their ground. 
Kunz's work is never static, always appearing to be moving, shifting, suggesting a similar displacement in time. The paintings are hung as elements of an installation, where poetic relationships can tangentially form between disparate images, stimulating the process of new and original ideas. Kunz's current works draw influence from the Washington Color School of the 1950s and 60s, Joan Mitchell, Helen Frankenthaler, poets such as Emily Dickinson and William Butler Yeats. The artist seeks to question the static nature of painting. By using rollers and brushes to move and drive across the canvas, she invents a space in flux, never fixed or contained. 
Kunz's work has been included in numerous national and international exhibitions in New York City, Brooklyn, Los Angeles, Houston, San Antonio, the UK and Poland. Recent exhibitions include Heroes For Ghosts, Galleri Urbane, Dallas; C2C Project Space, San Francisco; Registers at LVL3 in Chicago; Luminae at White Box NYC; Spectral Landscape at Gallery 400 UIC; and The Smart Museum at the University of Chicago. She has received awards and nominations from organizations such as 3Arts, Artadia; the Louis Comfort Tiffany Foundation; the Richard H. Driehaus Foundation; the Rema Hort Mann Foundation. She has been a resident at The Edward Albee Foundation, Roger Brown House, Skowhegan School of Painting and Sculpture and The Marie Walsh Sharpe Foundation, NYC. Looking ahead, Kunz will have solo exhibitions at Providence College Galleries, RI and at the Hyde Park Art Center, Chicago. A permanent installation of her large paintings can be viewed at the Prudential Building of Chicago, and her paintings on paper, " Color Scores" are currently on view at the University Club of Chicago.